Overseas Expansion Support
We provide the following support services to Japanese food service companies considering making inroads into the overseas markets of the Asia-Pacific region (Thailand, Singapore, Indonesia, South Korea, and Hawaii etc.):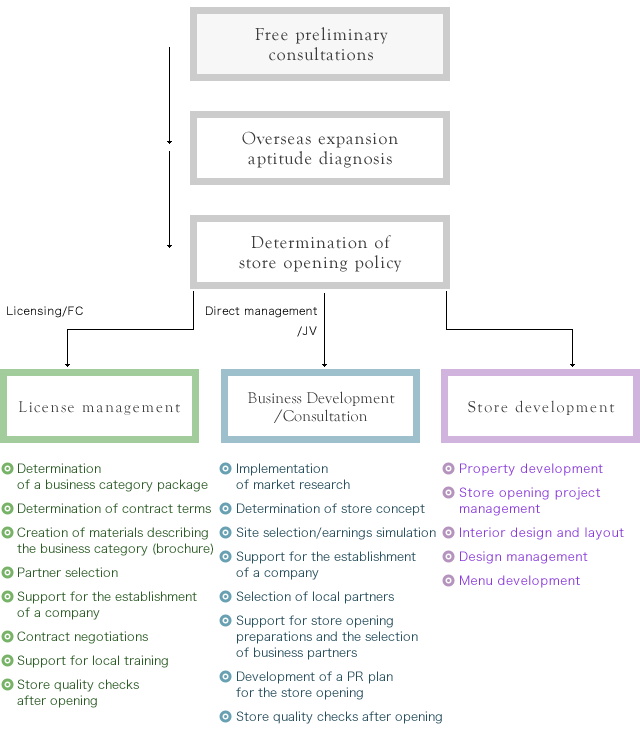 License management
We provide support services, including everything from packaging of the business category and the development of member companies to contract negotiations and conclusion and store opening, to companies considering the operation of franchise-based chain stores. After opening the franchise stores, we can provide outsourcing service for the management of the stores (supervision service).
Business Development/Consultation
For the opening of directly managed stores or joint venture-based stores, we provide comprehensive support services that include everything involved in the opening of stores overseas, such as market research, site selection, partner selection, preparations for store opening, and store quality checks after opening.
Store Development
We provide support services exclusive to the development of stores overseas, including property development at candidate sites for store opening, interior design, layout, execution management, and menu development.
Partner Companies
Other Services
Overseas Expansion Seminar
We sponsor seminars on a regular basis for food service companies that plan to make inroads into the ASEAN region.
Overseas Inspection Tour
We conduct inspection tours planned specifically for the food service markets in the ASEAN region.